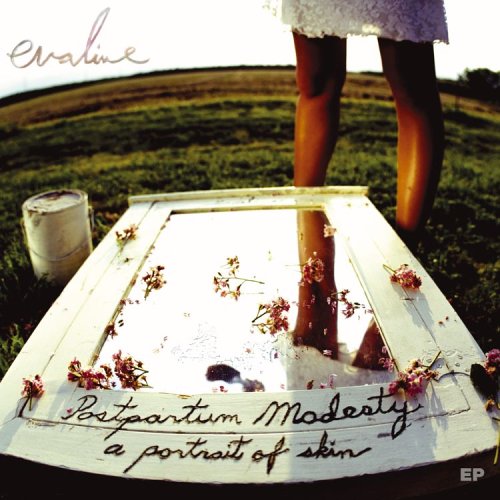 This album never sold very well, which is very surprising to me. Evaline seemed to have been set up for success: they were discovered by Quinn Allman, a member of "The Used" which helped produce this EP under Maverick, which is Madonna's record label. Evaline was dropped after this EP.

Even though the members of Evaline were fresh out of high school when they recorded "Postpartum Modesty. A Portrait of Skin", the album surpassed what one may expect from a new young rock group. Instead of having a thin and simple sound, I am amazed by the general complexity that was achieved in this album. Every time I give it a listen, different layers, melodies, and features of the songs stand out to me. The tunes don't get old.

The intro song, "La de Da" is probably the best song on the album and represents the band's style and sound well. There is a healthy mixture of echoing guitars, light keys, and fantastic drumming. There are layered vocals and complimentary background vocals which make this track stand out.

I appreciate the dynamic character that Evaline brings to each track. Instead of being overly repetitive or predictable, each song has multiple movements which keep listeners entranced so the songs continue to evolve with each listen. The vocals are beautiful. The tones fit perfectly with the feel of the music. The most dynamic song on the album would be "A Protest in Lines too Thin to Read". The song goes from distant vocals to intricate harpsichord melodies with piano, then the guitar and drums join in. Before you know it, you are hit with hard hitting drums and loud power chords.

While the music was spot on and the vocals were gorgeous, I was unimpressed by the lyrics on this album. While the music sounded thick and mature beyond the band's years, the lyrics were very dark, immature, and failed to fit in with the rest of the music. In "A Protest in Lines too Thin to Read", the song addresses cutting oneself, bulimia, and doubting the choice of living the life of a starving artist. "Write Off Your Pretentious Squalls" includes weak lyrics; "you are the veins that hang from tall trees, hands in my pallet, flesh eating is cliché". Evaline's music deserves better lyrics than this.

I wish they had made a full length instead of an EP. Each time I listen to the album, I am begging for more because the layered music keeps me entertained. Anyone who enjoys indie, ambient, or alternative rock could surely appreciate this album. This album is widely accessible to a potentially large audience had it been marketed and distributed better, it could have had commercial success.

I have seen this band live three times, once at Taste of Chaos at Nassau Coliseum in 2007, then twice at Warped Tour. They are really fantastic live, especially compared to the emo and pop rock bands that they have tended to tour with. The lead singer is known for jumping up and down on his keyboard and incorporating the cello into their live show. Their live sound has continued to evolve over the years and persistently strengthen their sound in their live show. These songs sound great live.

Just based on the music alone I would give this band a 9/10 but because the lyrics are so unimpressive and there is a discrepancy, I am forced to give this album a 7.8.
~Mary

7.8